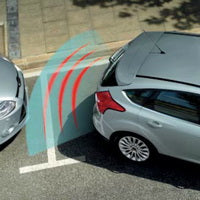 Our prices shown include V.A.T. and installation in standard vehicles.
Ultrasonic sensors mounted into the rear bumper detect the distance of obstacles at the rear of the vehicle. When the vehicle is placed in reverse the system delivers an audible beep which gradually becomes more panicked the closer you get to an object. These can be fitted to a wide variety of vehicles. 
Price includes installation. 

Main Features:

Four ultrasonic reversing sensors.
12 Month Manufacturer Warranty.
Professionally painted to the match the colour of your car.