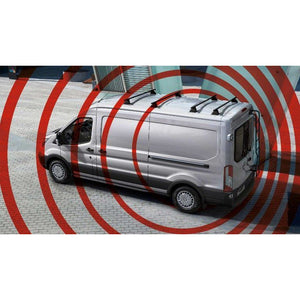 Our prices shown include V.A.T. and installation in standard vehicles.
This system is designed to work with modern vehicles that have a factory remote that operates the central locking on your vehicle. 
Standard Features:
Operates from your vehicles factory key fob (remote).

Fully integrated with modern vehicle electrical systems. 

Protection for Bonnet, Boot & Doors. 

Ultrasonic Sensors mounted inside the vehicle cabin help protect against thieves breaking windows.

Engine Immobiliser where applicable. Vehicles manufactured before 1996 and vehicles imported from outside the E.U. do not have a factory immobilser system. 
Optional Extras:
P.I.R. Sensor - This sensor is designed for the load area. It allows you to alarm the interior of the load area should thieves enter from somewhere other than the doors

. This option is highly recommended to protect valuable tools, equipment and stock. This option costs €195 including installation and vat.
Tilt / Lift Sensor - This sensor is designed to trigger and alarm when an attempt is made to lift or tow the vehicle.
Self powered Siren - This upgraded siren will sound even if a thief disconnects the cars main starter battery. 
Tracking system integration. - Where applicable we can integrate the alarm system to trigger notifications via tracking systems that we have installed.